These easy Keto Peanut Butter Chocolate Chip Cookies are ultra-crispy peanut butter cookies with delicious dark chocolate chunks perfect for fixing a sweet craving with only 2.7 grams of net carbs!
Plus, these keto peanut butter cookies are also gluten-free!
If you love peanut butter, you find the right place! I am a peanut butter lover, and I probably have made dozens of keto peanut butter recipes: from the No-bake Peanut Butter Bars to the No-bake Peanut Butter Balls.
So time for something new and ultra crunchy with this almond flour peanut butter cookie recipe, 100% sugar-free!
Is Peanut Butter Keto?
Not all peanut butter brands are keto-friendly. So before making any of my keto peanut butter recipes, always check the nutritional information of the peanut butter jar.
The jar should only contain peanuts and occasionally added salt. But, you shouldn't see any added sweetener or vegetable oils either.
You can also make your own Peanut Butter. What's easier than a 1-ingredient recipe?
ⓧ
Are you new to Keto?
Receive my Keto Quick Start email series to learn all about the Keto diet and kick start your keto journey!
How To Make Keto Peanut Butter Chocolate Chip Cookies
The great news is that you need just about 20 minutes to whip out a batch of these lovely keto cookies. Let's see what you need to start.
Ingredients
The ingredients you need to make these low-carb peanut butter chocolate chip cookies are:
Natural Peanut Butter – make sure you use unsweetened peanut butter with no added sugar or oil. You can use salty or crunchy peanut butter if you like a bit of salt or crunch in your cookies.
Softened Unsalted Butter  – or dairy-free butter. This recipe doesn't work as well with coconut oil. I recommend you rather use my almond flour peanut butter cookie for coconut oil.
Large Egg
Erythritol or any keto granulated sweetener you like including allulose, monk fruit erythritol blend. Or, you can also use brown sugar-free sweetener for a soft and chewy texture.
Almond Flour – I am using ultra-fine blanched almond flour, but almond meal works as well. However, almond meal gives a grainy, darker color to cookies.
Sugar-Free Chocolate Chips – I use dark chocolate chips and added a few pieces of sugar-free dark chocolate on top of the cookies for an extra boost of flavor. This is optional, and you can skip this extra step.
Baking Powder or divide the amount by half to replace with baking soda.
Salt – only use the salt if your peanut butter and butter are unsalted.
Beating Ingredient To Form A Cookie Dough
First, in a large mixing bowl or the bowl of your stand mixer using the paddle attachment, beat the egg, butter, peanut butter, erythritol, and vanilla extract.
Beat everything together until creamy and smooth – it takes just 30 seconds.
Then, stir in the remaining ingredients: salt, almond flour, and baking powder.
Beat on the low-speed setting until the cookie dough forms.
Finally, fold in the sugar-free chocolate chips and use a spatula to combine.
Baking
Preheat the oven to 350°F (180°C). Line a cookie sheet with parchment paper. Slightly oil the paper with coconut oil and set it aside.
Scoop out about one and a half tablespoons of cookie dough. Slightly grease your hand with coconut oil and roll the cookie dough into a smooth ball.
Place the cookie dough ball onto the baking sheet and repeat the steps above until all the cookie dough has been shaped.
Press down each sugar-free peanut butter cookie into a thick disc.
Decorate the top of each cookie with extra dark chocolate chips or chocolate chunks. You can also use 85% or 90% cocoa chocolate for this step.
Bake the gluten-free peanut butter cookies in the center rack of the oven for about 15 minutes or until the sides are golden brown.
Cooling Down
These low-carb peanut butter chocolate chip cookies are soft when out of the oven, and they must be cooled down for at least 15 minutes on the baking sheet.
Then, when they start to firm up and reach room temperature, slide a spatula or flat tool under each peanut butter cookie and transfer them onto a cooling rack.
Cool down completely before storage.
Storage
You can store these keto low-carb cookies in an airtight cookie jar at room temperature for about 5 days.
Otherwise, you can freeze the peanut butter almond flour cookies in zip lock bags and thaw them the day before at room temperature.
Frequently Asked Questions
Below are the answers to your most popular questions about this keto cookie recipe.
Can I Use Coconut Flour?
No, you can't swap almond flour with coconut flour. These keto flours have very different properties – their fiber and proteins amounts differ.
Use this coconut flour peanut butter chocolate chips cookie recipe to use coconut flour in your cookies.
Can I Use Dark Chocolate?
All dark chocolate slabs with more than 85% of cocoa are keto-friendly. So feel free to chop the chocolate bars into pieces and use them as a replacement for sugar-free chocolate chips.
Can I Make The Dough Ahead?
Yes, you can make ahead your cookie dough and store it overnight in the fridge.
However, the next day, keep the dough for 1 hour at room temperature before baking to prevent the cookies from completely deflating in the oven or spreading too much.
Can I Remove The Egg?
No, this recipe doesn't work egg-free.
You can experiment with flax eggs, but by experience, the result is pretty average. The cookies are fragile and fall apart easily.
For a fool-proof egg-free peanut butter keto cookie recipe, try my keto vegan peanut butter cookie recipe.
More Keto Cookie Recipe
Below I listed more delicious keto cookie recipes for you to try: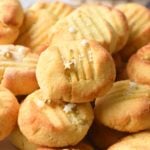 Have you made these low-carb cookies? Share a comment or review below to tell me how much you loved them!
XOXO Carine
Recipe Card

Keto Peanut Butter Chocolate Chip Cookies
2.7gNet Carbs
Net Carbs 2.7g
Fat 15.1g
Protein 2.3g
Calories 159.8kcal
Author: Carine Claudepierre
These delicious crispy Keto Peanut Butter Cookies with Chocolate Chips are perfect as a quick keto snack any time of the day.
Preheat the oven to 350°F (180°C). Line a cookie sheet with parchment paper and lightly oil paper. Set aside.

In a large mixing bowl, using an electric beater, beat softened unsalted butter, natural peanut butter, egg, vanilla extract, and erythritol until smooth and creamy.

Add in almond flour, baking powder, salt, and vanilla extract.

Beat the dough on the low-speed setting until fully incorporated, then using a spatula, fold in the sugar-free chocolate chips.

Roll 8 dough balls between lightly greased hands and place each dough ball on the cookie sheet leaving half a thumb of space between each.

Slightly flatten each cookie dough ball and add extra sugar-free dark chocolate chunks on top if you like.

Bake in the center rack of the oven for 15 minutes or until golden brown on the side.

Let the cookies fully cool down on the cookie sheet before transferring them on a wire rack to bring to room temperature. The cookies firm up as they cool down on the cookie sheet, so be patient.
Nutrition Facts
Keto Peanut Butter Chocolate Chip Cookies
Amount Per Serving (1 cookie)
Calories 159.8
Calories from Fat 136
% Daily Value*
Fat 15.1g23%
Saturated Fat 4.8g30%
Trans Fat 0.1g
Polyunsaturated Fat 1.6g
Monounsaturated Fat 3g
Cholesterol 23.3mg8%
Sodium 274.1mg12%
Potassium 11.7mg0%
Carbohydrates 10.9g4%
Fiber 8.2g34%
Sugar 0.3g0%
Protein 2.3g5%
Vitamin A 287.5IU6%
Vitamin B12 0.1µg2%
Vitamin C 0.1mg0%
Vitamin D 0.1µg1%
Calcium 49.8mg5%
Iron 0.4mg2%
Magnesium 1.1mg0%
Zinc 0.1mg1%
Net Carbs 2.7g
* Percent Daily Values are based on a 2000 calorie diet.