These easy soft, crumbly, 2-Ingredients Keto Cookies with no sweetener added have only 3.8 grams of net carbs per cookie.
Plus, this 2-ingredient peanut butter cookie recipe is also gluten-free and dairy-free.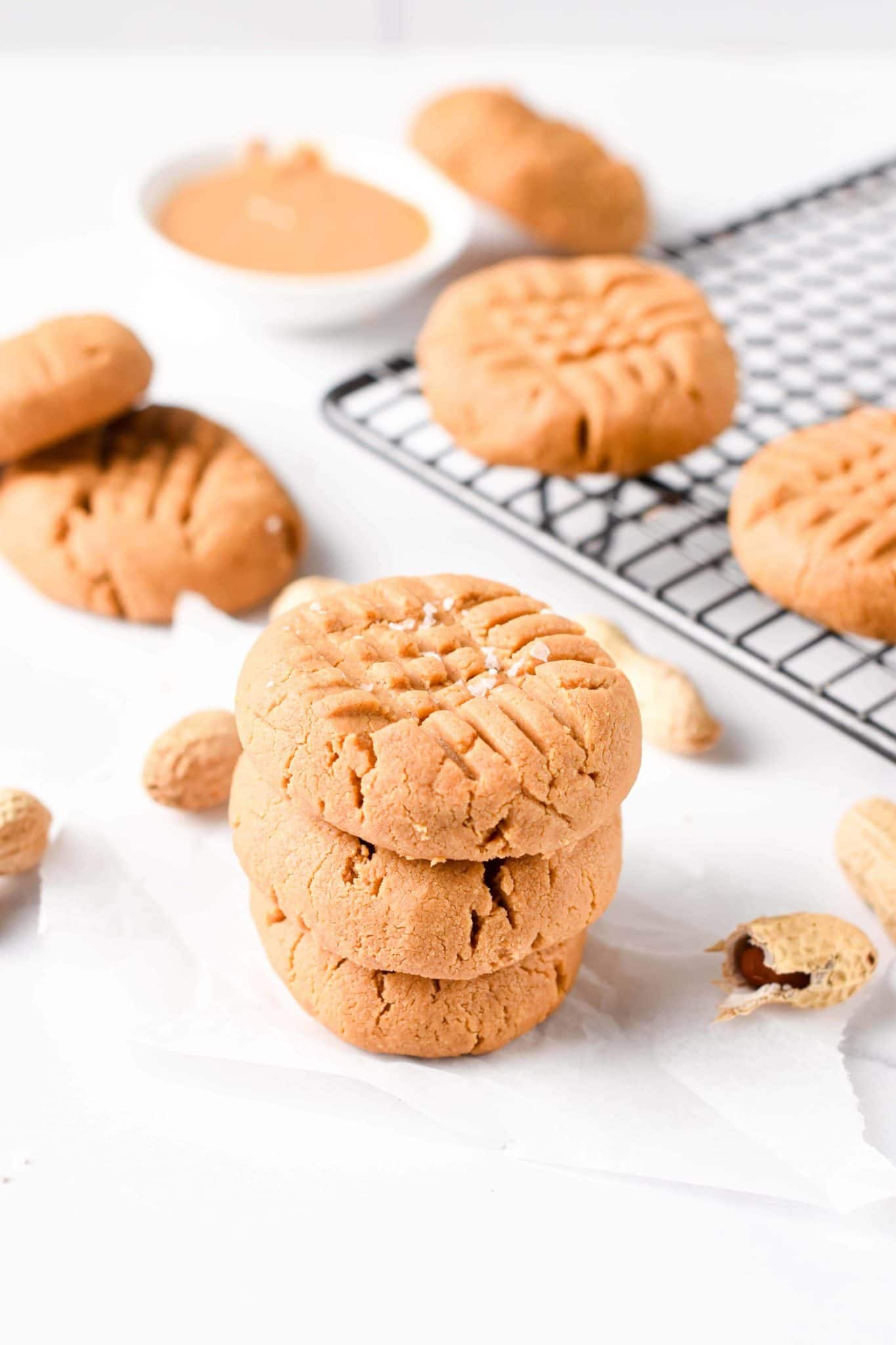 I am very often asked for keto recipes with no sweeteners added.
These 2-ingredient keto cookies are easy peanut butter cookies made with no keto sweetener at all, but they still taste delicious.
What Are 2-Ingredient Peanut Butter Cookies?
As their name suggests, these 2-ingredient keto cookies are probably the simplest recipe to make a keto snack.
All it takes is two very basic ingredients and 10 minutes of preparation to make a delicious hunger-buster.
How To Make 2-Ingredient Keto Cookie
Making these keto peanut butter cookies is really straightforward. First, let's see how to pick the ingredients.
Ingredients
Creamy Natural Peanut Butter: you have to use natural peanut butter. Buy a jar that has only peanuts as an ingredient, make sure it doesn't have added sugar or vegetable oils like many commercial brands do. Alternatively, you can also make your own peanut butter in a few minutes! Use a fresh jar as peanut butter tends to dry up a week after opening.
Eggs – I prefer free-range eggs, they tend to taste better. Make sure to take your egg straight out of the fridge – no need to let it reach room temperature. If your egg has been out for more than 15 minutes, then pop the batter in the fridge for 20 minutes before shaping the cookies.
Instructions
Combine the fresh peanut butter with the cold egg in a medium mixing bowl in any particular order. Just make sure the egg is cold, or the recipe might fail.
Stir the 2-ingredient peanut butter cookie batter with a silicone spatula and incorporate any of the optional flavors (see below).
Divide the dough into 11 or 12 dough balls of about the same size.
ⓧ
Receive my Keto Quick Start email series to learn all about the Keto diet and kick start your keto journey!
Place the dough balls on a baking sheet lined with parchment paper and form the 2-ingredient peanut butter cookies.
To make the typical Peanut Butter Cookie marking, press a fork in a criss-cross pattern on the top of the cookies.
Bake the keto cookies for 12 to 15 minutes in an oven preheated to 350°F (180°C).
The cookies are ready when their edges are golden brown. If the color hasn't changed, leave them in the oven. If they start to darken more, they are slightly overcooked.
Let the 2-ingredient keto cookies cool down on the cookie sheet without touching them for at least 15 minutes before transferring them to a cooling rack.
These cookies are very crumbly when the baking is done. However, they firm up and get their true consistency when they cool down.
Texture
2-Ingredient Peanut Butter Cookies are not crunchy cookies. They are soft and crumbly with a lovely peanut butter flavor.
You can firm up these cookies by adding almond flour to the batter. Add ½ cup while mixing the peanut butter to make them less crumbly.
Spice Them Up!
You don't need any keto sweetener to boost the flavor and sweetness of your peanut butter cookies.
But to vary the flavors, you can try some of the below, adding form ¼ teaspoon to 1 teaspoon of:
Vanilla extract
Cinnamon
Sugar-free chocolate chips – white, dark or milk chocolate works well.
A pinch of salt
Storage
You can store these cookies for up to 4 days in an airtight container in the fridge. Don't leave them at room temperature, as the egg would turn bad.
It's also possible to freeze the cookies in zip lock bags, but you'd have to thaw them in the fridge for about 8 hours.
Frequently Asked Questions
Can I Make Keto Chocolate Peanut Butter Cookies With The Recipe?
Yes, swap the peanut butter for a keto chocolate spread!
Some brands like Lakanto make delicious sunflower chocolate spread that works really well in this recipe.
It's also a great nut-free option.
Can I Swap Peanut Butter With Something Else?
Absolutely, you can use any seed butter or nut butter you love in this easy keto cookie recipe, such as almond butter, cashew butter, sunflower seed butter, etc.
Don't forget to rate the recipe if you've made these low-carb cookies! And drop a comment or question if you need any advice or want to give your own tips!
Recipe Card

2-Ingredient Keto Cookies
3.8gNet Carbs
These 2-Ingredient Keto Cookies are made with no sweetener and bring only 3.8 grams of net carbs per serving. Plus this peanut butter cookie recipe is also gluten-free, and dairy-free.
Net Carbs 3.8g
Fat 11.4g
Protein 5.4g
Calories 134.3kcal
Preheat oven to 350°F (180°C). Line a baking sheet with oiled parchment paper. Set aside

In a mixing bowl, add the peanut butter and cold egg straight out of the fridge.

Stir until the batter is thick and well combined. Fold in any flavoring like cinnamon, vanilla extract, or stevia drops for natural sweetness.

Divide the dough into 11 balls of the same size – about 1 ½ tablespoon.

Roll and place each ball onto the prepared baking sheet.

Use the slightly oiled back of a fork to flatten down the cookie and form a cross on top of the cookies.

Bake in the center rack for 12-15 minutes or until the cookies are golden brown – they stay soft on top and that's normal.

Remove the baking sheet from the oven and cool down for 15 minutes on the baking sheet – don't touch your cookies at all! They are fragile and need time to firm up.

After that time, slide a flat tool under each cookie to transfer to a cooling rack. Let them cool for 20 extra minutes before enjoying.
Nutrition Facts
2-Ingredient Keto Cookies
Amount Per Serving (1 cookie)
Calories 134.3
Calories from Fat 103
% Daily Value*
Fat 11.4g18%
Saturated Fat 2.3g14%
Trans Fat 0.1g
Polyunsaturated Fat 2.7g
Monounsaturated Fat 5.6g
Cholesterol 15.5mg5%
Sodium 98.2mg4%
Potassium 127mg4%
Carbohydrates 4.8g2%
Fiber 1g4%
Sugar 2.3g3%
Protein 5.4g11%
Vitamin A 22.5IU0%
Vitamin B12 0.1µg2%
Vitamin D 0.1µg1%
Calcium 12.9mg1%
Iron 0.4mg2%
Magnesium 36.8mg9%
Zinc 0.6mg4%
Net Carbs 3.8g
* Percent Daily Values are based on a 2000 calorie diet.